CHRISTIAN AND CHRISTINA GONZALEZ HO
DIRECTORS
cultural theorist | designer

Christian Gonzalez Ho is a Ph.D. student in Art History at Stanford University. He holds an M.A. in Architecture from Harvard University and a B.A. in American Studies from Fordham University. Christian's work focuses primarily on the dialogical relationships among philosophy, art, and culture.

In a past life, Christian worked in New York City as an off-Broadway playwright, director, and actor. He also spent time at the International House of Prayer in Kansas City and worked as Director of Design at Exodus Cry, an anti-human-trafficking organization. Christian loves to surf, snowboard, play basketball, and drink really, really, good coffee.

writer | musician

Christina Gonzalez Ho is a writer, musician, and worship leader. She holds a B.A. in Comparative Literature from Stanford University and a J.D. from Harvard Law School. In 2018, she co-authored Los Angeles: Mestizo Archipelago (Pinatubo Press), a book on the L.A. art world. Her audio series, The Last Two Years, is on Spotify and Apple Podcasts.
JOSHUA AND KATRINA BOCANEGRA

CORE LEADERS
writer | theologian

Joshua Bocanegra is a writer and theologian living in Kansas City with his wife Katrina and their dog, Nyxie. He has a Master of Arts in Theology from Fuller Theological Seminary with an emphasis in Christian Ethics and Systematic Theology with an eye for the Hebrew Bible. His work focuses on intersection of cultures, theology, and faithful discipleship to Jesus. He seeks to approach Christian discipleship in a holistic, relational way, building good relationships with creation, our neighbor, and with God.

licensed therapist

Katrina Bocanegra is a licensed therapist in Kansas and Missouri. She has a Master's in Counseling, with an emphasis in Clinical Mental Health. One of her values as a therapist is to utilize multicultural awareness to better understand the people she works with. Prior to licensure, Katrina worked for almost a decade doing Inner Healing, spent several years in youth ministry, and was an associate director for a summer teen camp. She has a passion for working with those in the helping professions and enjoys helping others learn to reconnect with their body and alienated pieces of themselves to move forward in a healthier and more cohesive way.

RACHEL TERRELL-PERICA AND WILL TARPEH
CORE LEADERS
attorney | feminist

Rachel Terrell-Perica believes the power of the gospel coupled with Christ-centered justice can change our world. She holds a B.A. in Comparative Studies in Race and Ethnicity from Stanford University and a JD from Berkeley Law School. She cares deeply about eradicating inequality in our society and galvanizing the church to exemplify racial unity and female empowerment. Rachel has played piano for almost 20 years and loves encountering God's presence through worship and prophecy. She lives in Palo Alto with her husband, Will.
educator | engineer

Will Tarpeh is an engineer and professor passionate about increasing access to sanitation in developing countries. He holds a B.S. in Chemical Engineering and an M.S. and Ph.D. in Environmental Engineering. Will loves to mentor high school and college students in uniting faith and vocation; in particular, he is dedicated to increasing opportunities for historically underrepresented groups in science and engineering. His main teaching areas include sustainability, stewardship, and antiracism. Will is married to Rachel Terrell-Perica.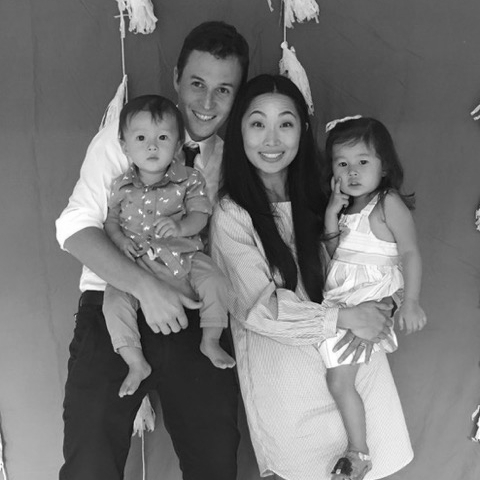 CORE LEADERS
missionary | speaker

Mike Brown has worked with Youth With A Mission for his entire adult life! He loves being married to his wife, Anna, and thinks one of the best things he's ever done is father his four kids, Eternity, Xavier, Riley-Joy, and Haven. He loves to dream with his friends about how to change the world, go on slightly dangerous adventures whose stories will live on for years to come. And most of all, he loves anything that draws him closer to the heart of God. He currently helps lead the Awaken community in Kona Hawaii and travels the world teaching and speaking in YWAM and churches alike.

missionary | teacher

Anna Brown is 36 years old, wife to Mike Brown, and mother to Eternity, Xavier, Riley-Joy, and Haven. She received bachelors degrees at the University of Maryland in Education and Math. She has spent time with the International House of Prayer in Kansas City, Iris Ministries in Pemba, Mozambique, and has been in Kona with the University of the Nations since 2012. She currently helps to lead a community called Awaken, and works with the Kona Bible Team, which distributes bibles to nations and people all over the world. She feels passionate about developing effective, Christ-like, passionate leaders in all spheres of society.



BEAU AND KRISTEN DAVIDSON
CORE LEADERS
writer | chef

Kristen's background is in culinary arts, ceramics and creative writing. Her delight in food, particularly good ingredients and the desire for a more just food system, lured her into farming. Here she fell in love with herbs, beneficial bacteria, fungi, and the breathtaking complexity of the natural world.

audio engineer | farmer

Beau Davidson is a worshiper, farmer, music producer, father, and husband. After earning his BS in Recording Engineering from MTSU, Beau spent his early 20s working in the Nashville, TN music industry. In 2009, he joined YWAM New Zealand, where he began two years of itinerant ministry and music. In 2011, Beau returned to his hometown of Kansas City, MO to join the worship arts community at the Kansas City Boiler room. There, he met and married his wife, Kristen—and in a surprise twist, also fell in love with dirt. Thus began a philosophical love affair with Land. Together, Beau and Kristen began practicing ecosystem regeneration in the heart of urban Kansas City. In 2018, they moved with their two children to a working farm where they began Laird Woodland Farm, an ecological research initiative to tend the borderland between philosophy and practice of resource-stewardship, creativity, and whole living.